Ansys Maxwell Motor Modeling
one-day course
This 1-day course provides an introduction to modeling motors using Ansys RMxprt and Ansys Maxwell.
During the course, students will build hands-on skills by setting up and solving a variety of simulation models during the workshop sections.
Prerequisites for this course are DRD's Introduction to Maxwell course and practice gaining proficiency with Maxwell. DRD recommends that students who do not have those prerequisites delay attending this course until they attain them. This course does not assume any experience with RMxprt.
Section 1: Cogging Torque
Workshop 1 – Cogging Torque Calculation
This workshop will discuss how to use ANSYS Maxwell to calculate the cogging torque in an example 3-phase permanent magnet machine. Both a parametric static and pseudo-static transient methodology will be explored.
Section 2: Motor Power Balance
Workshop 2 – Motor Losses
This workshop explores an example induction motor to understand power loss prediction in Maxwell. It will show how to obtain these quantities during postprocessing, how to validate them through checking the power balance, and how to improve simulation accuracy on these results. RMxprt will be used to both analyze the motor and to generate Maxwell 2D and 3D models of the design.
Section 3: Demagnetization
Workshop 3 – Demagnetization Due to Short Circuit
This workshop will discuss how to use Ansys Maxwell to study the variation of Permanent Magnet Rotating Machine performances due to short circuit and related high value external fields and permanent magnets demagnetization.
Section 4: Machine Toolkit
Workshop 4 – Using the Machine Toolkit on a PMSM Model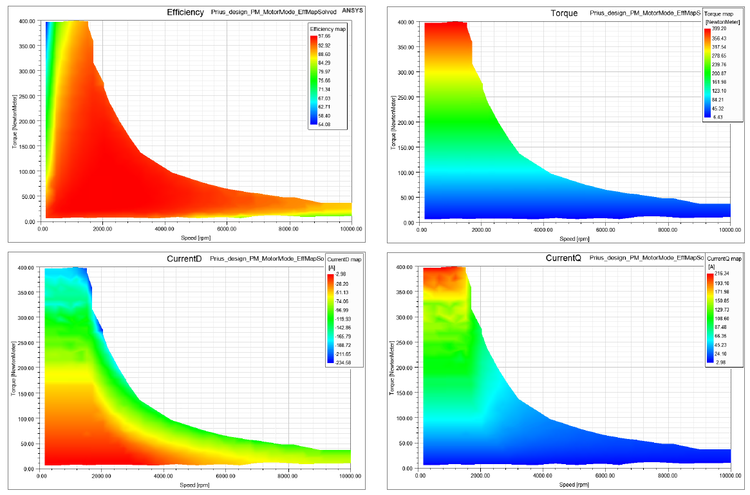 This workshop starts with an existing 3-phase permanent magnet synchronous machine model that's set up to solve one operating point. The user will then use the Machine Toolkit extension to define the Design of Experiments runs which will populate the full operating space. Output maps such as efficiency, losses from different sources, torque vs. speed, and voltage/current in the d-q frame can be obtained for this design after running the DOE that the toolkit automatically creates.
Course Enrollment and Schedule
Ansys Maxwell Motor Modeling